Just discovered from their social network, Divine Ascension is the latest female fronted metal band from the Kangaroo continents. That's right , the band formed in Melbourne four years before their debut album As The Truth Appears, released on October 2011.
A quick examine will tell you that this band is too good to be ignore just because they are not reside in the epicentrum of metal in Europe or US. They are beg to be discovered and put in the same league as their European colleagues. Divine Ascension's female singer, Jennifer Borg is a promising and talented. She delivered solid voice for all tracks and her type is more traditional metal voice, Evanescene-type but heavier multiple times.
The music itself is quite balance between European style similar to Epica and early Within Temptation and the US style ala Evanescene. Spice up here and there is the elements of Symphonic. The cover album art is a bit uncommon for a Symphonic Metal with female voice, but rather made us to think that this is a progressive metal album.
Answer is a straight forward opener, strong signature guitar riff intro and distinguished guitar distortion sound, maybe this is the Aussie distortion signature sound. Duet vocal in this opener added a heavier dimension to the track. Visionary is more the European melodic influence intro. In My Mind is an experimental track running on interesting music scale. Vision Divine is a traditional Symphonic Gothic track with operatic vocal line running on guitar distortion, every female fronted band will need this track. Then Guide by Osiris is again track build on some exotic scale. One Last Caress started with intro ala Metallica's For Whom The Bell Tolls tempo and then the song continuing into thick symphonic layer.
Several metal ballads in the later phase of the album, As The Truth Appears is a pleasant truth by this female fronted band. Whole heart recommendation to this album and an enjoyable listening.
Divine Ascension - As The Truth Appears 2011
1. Answers
2. Visionary
3. In My Mind
4. Vision Divine
5. Guided By Osiris
6. One Last Caress
7. Garden Of Evil
8. Another Battlefield
9. Hope Arising **
10. Civilisation
11. Unscathed
12. Not Today **
** Japanese Bonus Tracks
Jennifer Borg
– Vocals
Karl Szulik
– Lead & Rhythm Guitars
Robb Inglis
– Rhythm & Lead Guitars
David Van Pelt
– Keyboards
Simon Mahoney
– Bass
Luke Wenczel
– Drums
Divine Ascension album cover and graphic design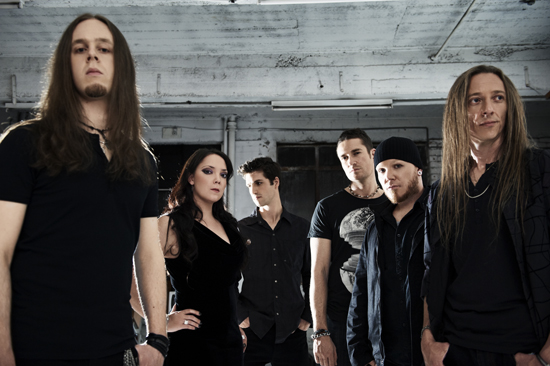 Band's photograph, visit their URL http://divine-ascension.com